Gucci is one of the most notorious luxury brands in the world of fashion and its name is usually associated with VIPs and celebrities. Wearing a Gucci dress or shoes, or sporting a bag bearing the brand's signature is undeniable proof of style and luxury. In fact, this brand is so famous among the jet set that buying anything from Gucci might seem like an unattainable goal for the regular person.
However, don't let the name and fame fool you. Gucci is indeed an expensive brand, but some of its products can be purchased at lower prices. If you really want to have a Gucci product in your closet, why not opt for a sweatshirt that you can get at an affordable price from one of the shops we will list below.
A bit of insight into the brand's history
Just like many other big names in the luxury fashion industry, Gucci was born in Italy. This reputable brand was founded in 1921 in beautiful Florence by Guccio Gucci, hence its name. In the very beginning, the company focused on accessories, more precisely, bags. Later on, as the company grew, it began to produce clothing as well.
In fact, in his youth, Guccio Gucci, who worked for high-end hotels, felt inspired by the luxurious suitcases and the bags guests would bring with them, which prompted his passion for this type of product.
Gucci's success story started with the company producing luxury travel goods that soon became a trend among the rich. Not surprisingly, up to the present day, Gucci bags are one of the most appreciated items manufactured by this company, carried by some iconic names such as Jackie Kennedy, Princess Diana, and countless celebrities. The year 1990 marked one of the brand's milestones as the now notorious designer Tom Ford joined the company that would soon promote him as a Creative Director.
Ford revived the brand, whose reputation had been slowly fading, and managed to bring back the opulent charm that has always characterized Gucci. Given its decades-long history, Gucci continues to be one of the oldest Italian fashion brands still operating today, having flagship stores in New York, Milan, Rome, London, Paris, Tokyo, New Delhi, and many other locations around the world.
Buying a Gucci sweatshirt
Gucci represents the pinnacle of luxury and this brand is by no means cheap. Dressing from head to toe in clothes signed by this luxury manufacturer comes to thousands of dollars.
If you want to know how much a regular Gucci sweatshirt costs, you can easily browse the company's official website and see that most products go beyond the $1,000 threshold, with many models ranging around $1,500. Nonetheless, if you really want to own something that's marked with the original Gucci logo, you can get a sweatshirt at a price that costs significantly less.
Check out the options below that we carefully analyzed during our cheap Gucci sweatshirts quest. On the same websites, you will also be able to find other affordable alternatives.
Gucci Men's Yellow Sweatshirt: this trendy sweatshirt with tiger stripes is a bold choice that will certainly make you stand out. It comes in a yellow and black print and it proudly boasts the company's logo print across the chest. It has long sleeves and crew neck, together with French terry lining. It's made of 100% cotton and it costs $588 on Lyst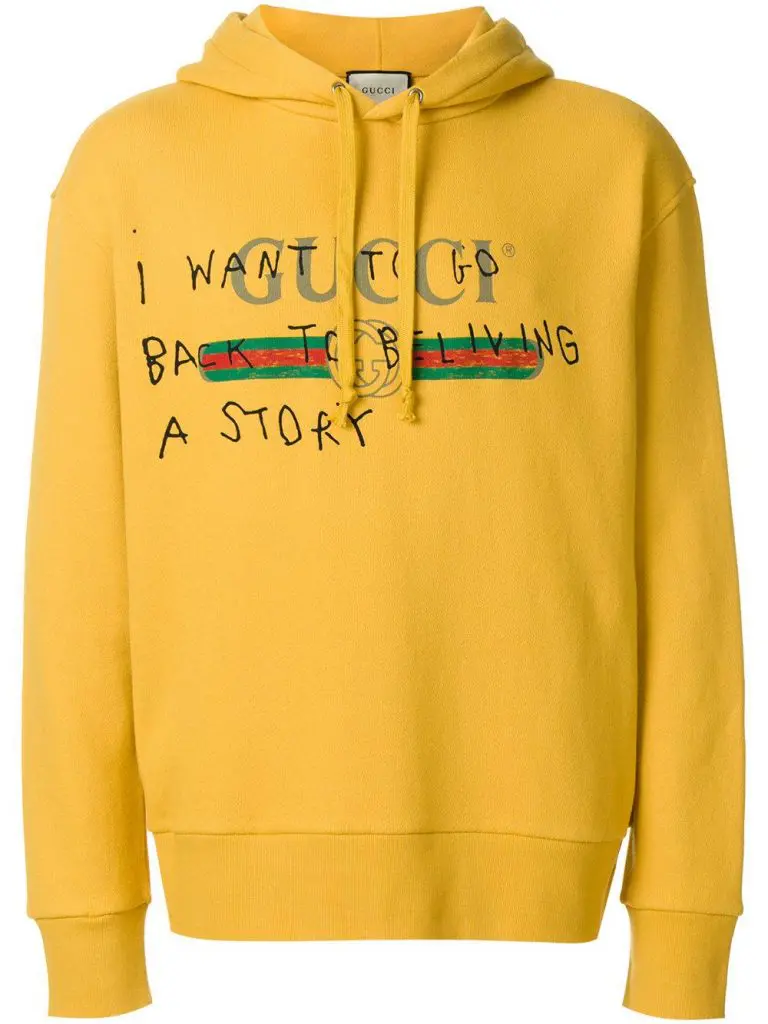 Gucci Women's Black Sweatshirt: tops with messages are never out of fashion and this Gucci sweatshirt that proudly boats the motto 'blind for love' is here to prove it. Besides this inspirational message, the sweatshirt also features a lovely embroidery and contrasting applications. It is size large and 100% cotton. It costs $726 on Lyst. 
Gucci Orgasmique printed sweatshirt: if you want to grab everyone's attention, this plain cream and black men's Gucci sweatshirt that features the message Gucci Orgasmique will do just that. This comfortable apparel has a ribbed crew neck, long sleeves, ribbed hem and cuffs, and a relaxed fit. It costs $743 on Farfetch. 
Gucci Men's Gray Hooded Cotton Sweatshirt: this casual and exceptionally comfortable Gucci sweatshirt for men costs $686 on biffi.com, although it was initially listed at a price of $979. It is a lovely gray that can be paired with any jeans or casual pants and a hood with drawstring. It also features the brand's logo printed in white. 
Gucci Men's Green Sweatshirt with Print: if you don't want to wear a  Gucci sweatshirt just for your workout, you can opt for this gorgeous green model that is suitable for any occasion. Paired with jeans or any other casual pants, it makes a great choice on a chilly day. It costs $609 on biffi.com and it has a ribbed round neckline, the Gucci logo, ribbed hem and cuffs, and low shoulder sleeves.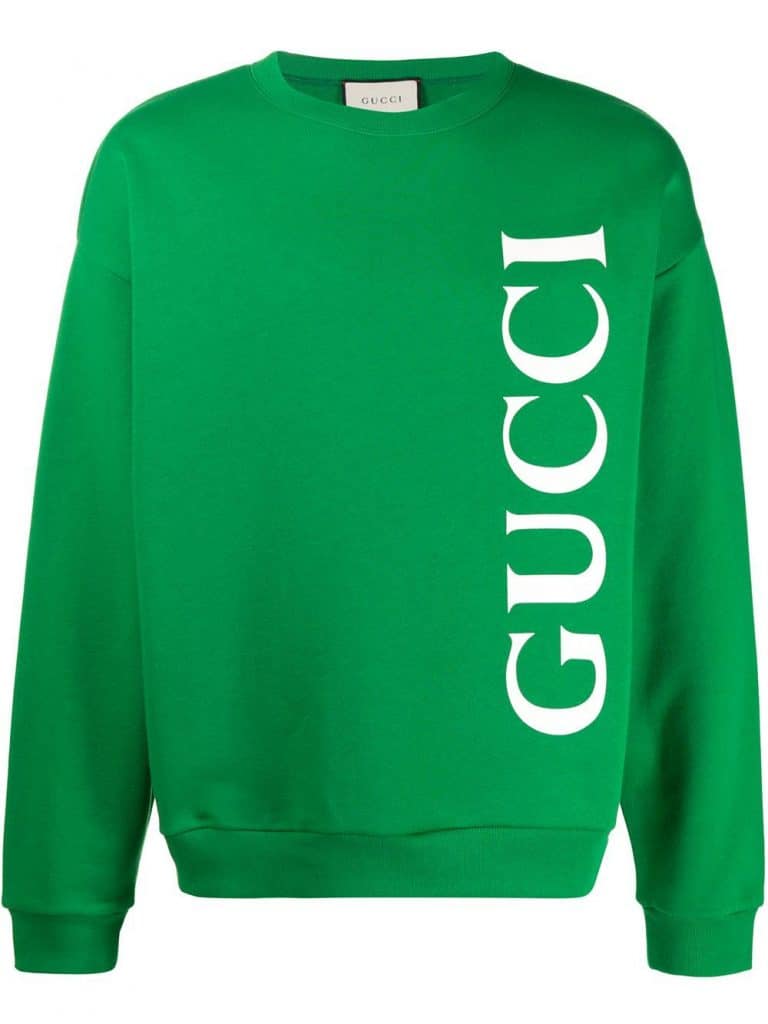 Interlocking G Logo Print Sweatshirt: this cool men's sweatshirt features the designer's signature interlocking G logo in yellow print on a gorgeous blue that pairs well with any type of jeans. It has a crew neck, long sleeves, and ribbed hem, and it can be purchased for $743 on Farfetch. 
Gucci Women's Sexiness Purple Cotton Sweatshirt: the Gucci brand is commonly perceived as sexy and this sweatshirt featuring the message 'Gucci sexiness' strives to prove it. This item is a wonderful purple, has a crew-neck, dropped shoulders, and ribbed trims slips. It is made entirely of cotton and it costs $750 at Harvey Nichols. 
Gucci Men's Black Hummingbirds Embroidery Sweatshirt: if you are a bit classy and you want to stick to your style even when you dress casually, this black Gucci sweatshirt is for you. It is listed at a price of $650 on Ikrix and it is a great option for the modern man. This versatile item can be paired with almost any type of pants and shoes and it features a stylish embroidery. 
Gucci Women's Blue Flip Sequin Logo Sweatshirt: this item grabbed our attention the moment we started browsing Farfetch looking for cheap Gucci sweatshirts. It has an outstanding flip sequin logo detail that fails to go unnoticed due to the gold and blue that literally shine on the black background. It also features long sleeves and crew neckline, is a pullover design and costs only $465. 
Gucci Men's Black Sweatshirt: this black sweatshirt for men that costs $643 on Yoox has a gorgeous multicolor pattern featuring a snake and a cosmic background. It has a round collar, french terry lining, and is made of a quality blend that brings together cotton, elastane, wool, and polyamide. It is a great choice for trendy young men. 
Gucci Women's Red Sweatshirt: ladies will surely love this gorgeous red Gucci sweatshirt that is both appealing and comfortable. It has a colorful print on the chest that includes the brand's name and logo and the rest of the sweatshirt is bright red. It also has a large hood and drawstring, ribbed cuffs, and long sleeves. It costs $656 on Lyst 
Panther Face Cotton Sweatshirt: this extravagant men's sweatshirt features a green panther face print, together with two Latin phrases, "Privilegium Perpetuum" and "Sine Amore Nihil", the latter translating as 'nothing exists in the absence of love'. This bold product is made of cotton and it comes in gray. It costs $835 on Farfetch. 
Gucci Women's Blue Printed Cotton Cropped Sweatshirt: this comfortable women's sweatshirt is an awesome sky-blue that will make you instantly fall in love with it. It is made of soft cotton, has a round collar, large sleeves that go just below the elbow, and it is as trendy as a sweatshirt can get. It costs $800 and will go with any type of jeans you might have in mind. 
Gucci Hawaii Cropped Sweatshirt: if you want to keep up with the summer vibe throughout the year, this women's Gucci sweatshirt with a Hawaii-themed print will help you out. It is made of organic cotton, has a lovely beige background and a colorful print, enhanced by the glittering detailing, raw-cut hem, round neck, drop shoulder, and half-length sleeves. It costs $621 on Farfetch. 
x Disney Mickey Print Sweatshirt: this cool Gucci sweatshirt for women with a Micky Mouse print does more than bring back sweet childhood memories, it makes you look and feel young. It has an over-sized fit, the Gucci logo just beneath the print, ribbed trimming, a crew neck, and long sleeves. It costs $796 on Farfetch.
Gucci is by definition the luxury brand that the rich and famous love to wear and show off. If wearing a complete Gucci outfit is out of reach, why not go for something that's more affordable like one of the cool and comfortable sweatshirts above?